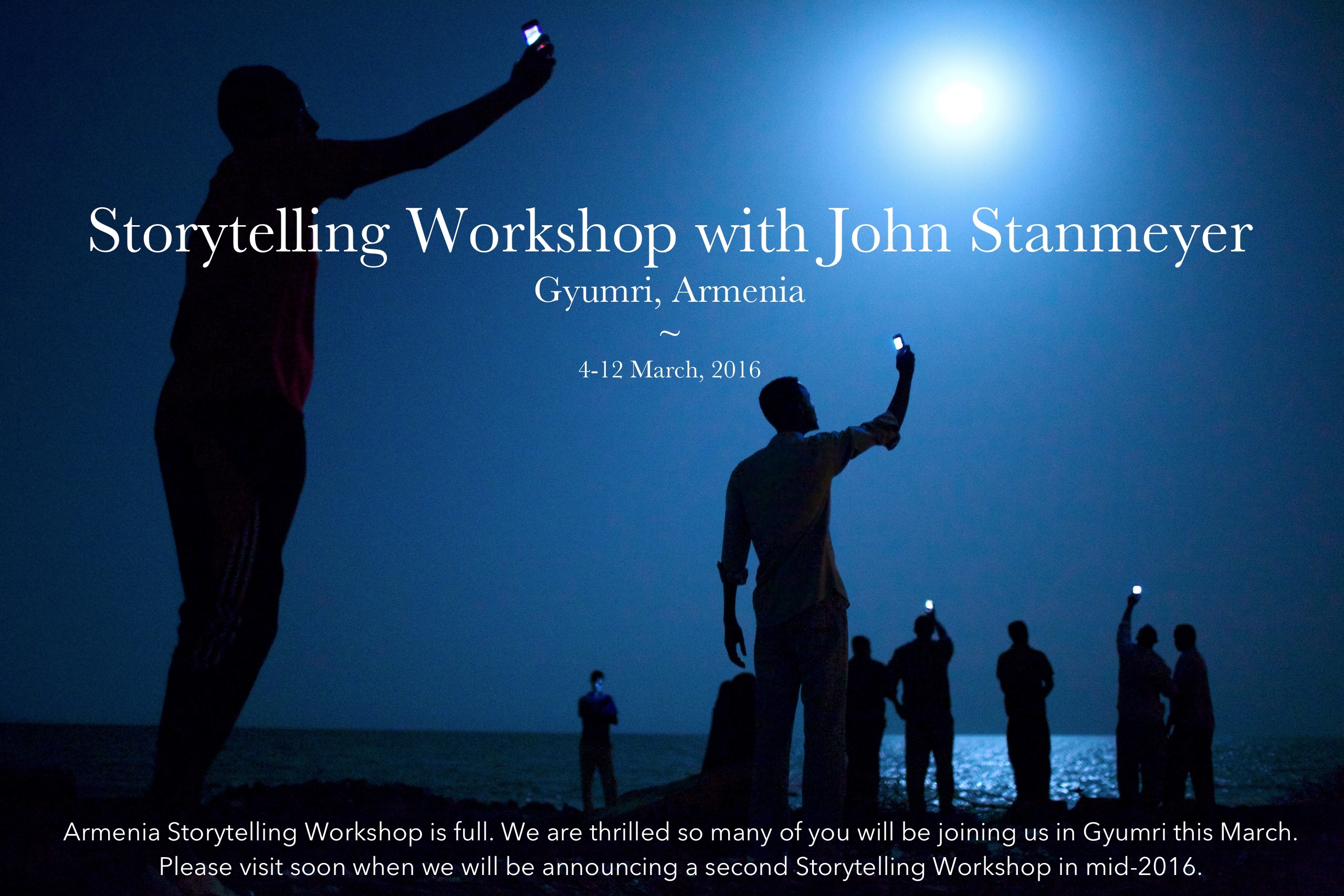 INTERNATIONAL WORKSHOP
Storytelling Workshop with John Stanmeyer
Gyumri, Armenia ~ 4-12 March, 2016
This year's Storytelling Workshop will bring 12 photographers to the historic city of Gyumri in northern Armenia. Located just over an hour outside of the capital, Yerevan. Gyumri is a historic city at the border between Armenia and Turkey. Some of the most interesting artists come from Gyumri, which is why it is sometimes called Armenia's capital of culture. In Gyumri, you will discover layered stories, a rich, ancient culture, humorous and kind people where powerful visual landscapes abound. John Stanmeyer spent over a month in this part of Armenia in early 2015 while on a National Geographic assignment, falling in love with the region, the culture and its people. We now return to this enchanting area of the Caucasus for a workshop like no other — storytelling and the power of publishing in today's ever evolving media landscape.
It is expected that each photographer arrives to Yerevan by the morning of March 4, traveling by taxi or bus to Villa Kars, the workshop venue in Gyumri, located in Gyumri's historical district. For those who arrive earlier to Armenia, rooms at Villa Kars or elsewhere can be arranged and is recommended if wanting to get a footing into the timezone and culture.
The actual workshop begins in the late afternoon of the 4th of Match and ends with the evening projections of completed stories on the 12th — nine days of deep immersion.
On the 4th, each photographer will meet with John and will be introduced to their fixer/translators to begin logistics planning for the next day's photography. Photography on your story begins either on that afternoon of the 4th (if you so choose) or early on the 12th.
Suggestions for stories and assistance with background information for the stories will be provided to you prior to your arrival.
Throughout the next 9 days, John will collaborate closely with each photographer as they work on their individual stories, most specifically in the storytelling and editing processes. At times, John will try to go out with photographers, however experience shows that having another photographer around you while working only alters, affects the situations each photographer works in. If a photographer is having difficulty in the field connecting with the story, John will indeed go out with the photographer, guiding and inspiring wherever needed. Keep in mind that this is not a "Follow the flag, now take a picture of this!" type workshop. John's workshops are all about individual, in-depth storytelling where each photographer not only will learn how to expand their photography, you will learn how to expand your thinking and awareness of the world around you. In every workshop John has hosted, each photographer leaves effected, expanded — for John and others, these are almost therapy photo sessions of enlightenment.
Editing of photography happens each day at the workshop venue. This is done both individually and in groups, making it a fascinating learning experience for all when witnessing how each photographers images evolve throughout the course of the workshop, into a completed story.
During most evenings of the workshop, John will present stories he has produced from over twenty years of photographing for the world's leading publications, such as National Geographic and Time magazine. Stanmeyer will bring each photographer into his planning, research and psyche of creating more than 14 stories for National Geographic.
Joining John this year will be Anush Babajanyan and Nazik Armenakyan, co-founding members of 4Plus, an NGO photo cooperative that works to empower female photographers in Armenia and throughout the Caucasus. Anush and Nazik are two of the most talented photographers working today in Armenia, helping to expand both your photography and cultural understanding in the truly rich, subtle nuances of Armenian culture and traditions. John is thrilled to be collaborating with 4Plus in this years workshop.
On the evening of the 12th of March, each photographer will project their completed work to all attending the workshop, as well as invited guests. Photographers will present and discuss the unique aspects of each story in the exact same manner as a completed story for National Geographic magazine is presented upon completion to editors. This evening event is truly something magical and amazing, with each photographer learning something new not only about their own work but also the work of their colleagues.
After projections, John and all participants go out for a group dinner and drinks, heralding the completion of an amazing week of storytelling.
Unless choosing to stay longer, participants need to check out of the hotel on the morning of the 13th. Participants can, if they wish, arrive earlier to Armenia than the 4th, and of course, stay longer than the 13th.
We encourages all photographers to consider staying longer in country to keep honing their photographic skills and can help in offering expertise and insight into places around Gyumri, Southern Armenia and well into the Republic of Georgia — Georgia is 3-hour drive north of Gyumri.
Early Bird
Register before February 1, 2016
New Workshop Attendee
Early Bird & Returning
Register before February 1, 2016
Returning Workshop Attendee
Standard
Register after February 1, 2016
New Workshop Attendee
Standard & Returning
Register after February 1, 2016
Returning Workshop Attendee
Deposit
A $1,000 nonrefundable deposit is payable on confirmation of a space in the workshop. To receive the 10% or 20% discount options, the remaining balance must be paid by February 1, 2016. If registering after February 1, 2016, deposit and full payment must be received by February 25, 2016.
Cancellation policy: A 50-percent refund will be given up to one week prior to the start of the workshop for any participant who has paid in full for the workshop, however the $1,000 deposit is not refundable for any reason of cancellation — The reason for this is due to the high preparation costs, staffing fees and other significant expense to run international workshops prior to the start of workshop.
Spouse/partner of a participant are allowed to share the room of a participant in the workshop but cannot partake in the actual workshop. There is an added fee for a second person in the room. Please inquire if bringing a spouse or partner.
Bank Transfer Fees
All wire transfer fees are the responsibility of the registering/participating photographer. Please read Liability Waiver.
Workshop Requirements
This is not a workshop teaching f-stops or how a camera works. This is a workshop about storytelling and the power of photography. Each participant must be a competent, passionate photographer, with a solid understanding of their camera. You can use any camera you wish, even an iPhone (John often uses his iPhone on assignments). Each photographer needs their own laptop, external hard drives to store their photos and editing software such as Lightroom, Aperture or Photo Mechanic. Photographers wanting to record audio should bring their own digital or analogue audio recorders. Also remember to bring power cables and any other accessories you feel you need to connect to 220v power.
Sponsored Photographers
To support education and photography in the region, two Armenian photographers will be sponsored for the event, bringing an added layer of cross-cultural insight for all participants. All workshop fees will be waived for these two local photographers. Only expenses required are transport to and from Gyumri, accommodations, food, ground transport and all other ancillary expenses. To submit a folio for Sponsorship, contact Anush Babajanyan with 4Plus. 4Plus and John will be making the final selection for sponsorship by March 1, 2016.

4Plus are photographers united around the aim to develop documentary photography and to empower women in Armenia and beyond. We organise workshops, exhibitions, lectures, all in partnerships with enlightnening individuals and organisations who join us in our cause.