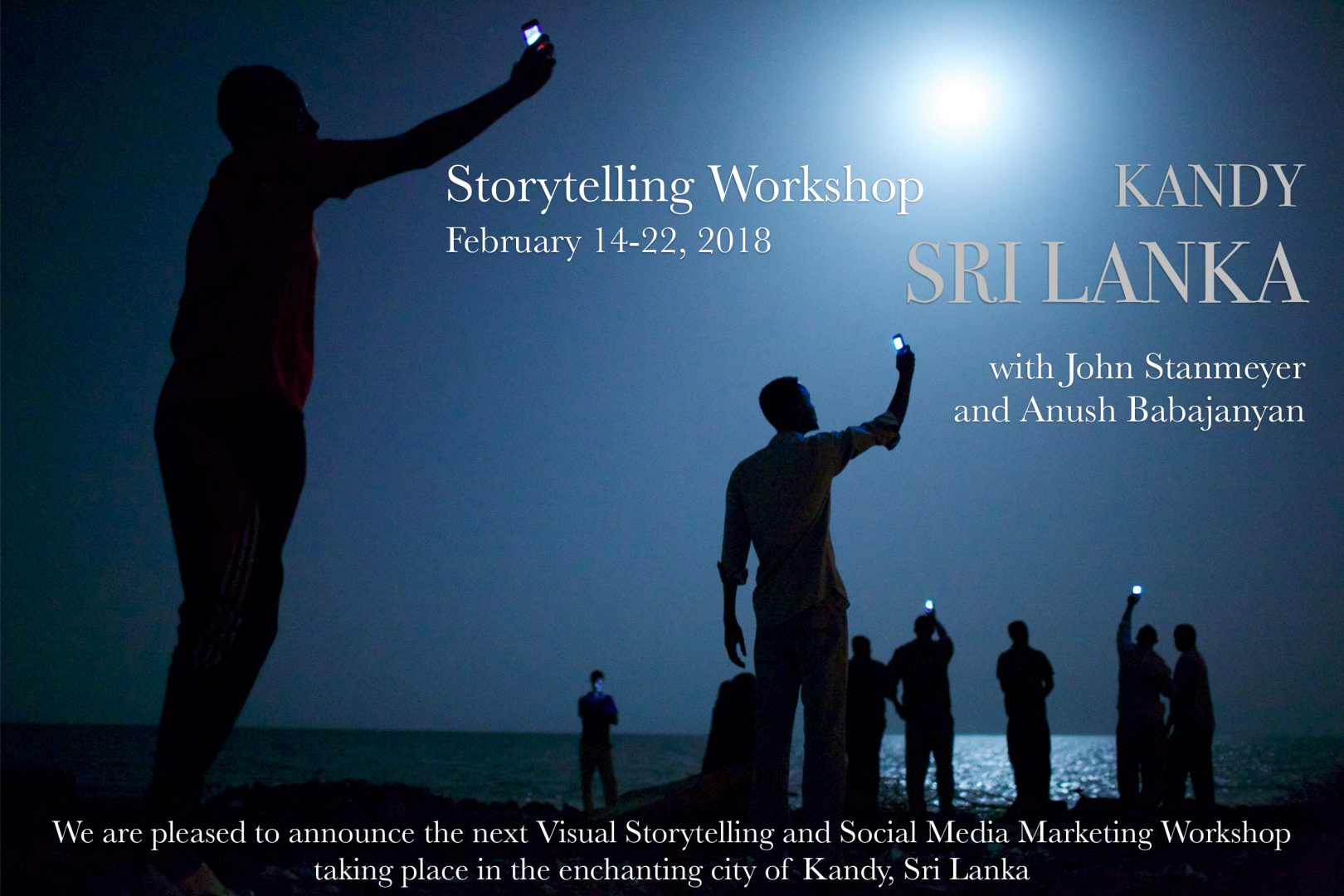 THIS WORKSHOP IS FULL. PLEASE STAY TUNED AND KEEP IN TOUCH FOR OUR UPCOMING WORKSHOPS.
INTERNATIONAL WORKSHOP
Storytelling & Social Media Workshop with John Stanmeyer and Anush Babajanyan
Kandy, Sri Lanka ~ 14 February through 22 February, 2018
We are excited to begin the new year with the first in a series of Storytelling and Social Media Workshops that will bring 14 photographers to the historic and enchanting city of Kandy, Sri Lanka. Located in the heart of this beautiful South Asian nation, a capital of ancient kings and home to the most sacred Buddhist shrines,  a land of rich history with warm and welcoming people, Kandy is the perfect setting for deeply enriching visual storytelling.
John Stanmeyer, who has spent much time in Sri Lanka while living in Asia for more than 12 years, is thrilled to be bringing this immersive workshop to this unique part of the world.
Anush Babajanyan, a latest member of the prestigious VII photo agency, brings a pensive, spiritual approach to poetic storytelling with important insight in publishing in today's ever evolving media landscape.
Workshop
Throughout the 9 day workshop, John and Anush will collaborate closely with each photographer as they work on their individual stories, most specifically in the storytelling and editing processes. At times, Anush and John will try to go out with photographers, however experience shows that having another photographer around you while working only alters, affects the situation you are in. If a photographer is having difficulty in the field connecting with the story, Anush or John will indeed go out with the photographer, guiding and inspiring wherever needed. Our workshops are all about individual, in-depth storytelling where each photographer not only learns how to expand their photography, you will learn how to expand your thinking and awareness of the world around you. In every workshop John and Anush have hosted, each photographer leaves affected, expanded — for many, these workshops become therapeutic photo sessions.
After registering for the workshop, story research begins, with John and Anush working with you remotely through email/Skype to discuss and plan your story idea. This lasts as long as necessary, weeks or months, because we want to make sure that you arrive well prepared, able to dive into the creation process right away with the help of your fixer. The research phase is an interesting process similar to the way National Geographic stories are planned and researched in advance.
It is expected that each photographer arrives to Kandy by the morning of February 14th the latest, though we suggest you to arrive at least one day before to be settled in the new timezone. By late morning, we will converge at the workshop venue where each photographer will meet with John and Anush, be introduced to their fixer/translators to begin logistics planning for that day's photography.
Over the next 9 days, you will go deeply into the process of story creation using still photograph or even video.  You work on the story at your own pace. Expect long days or nights, the process of story creation is so giving that at times you don't notice how time passes.
Editing of photography happens each day at the workshop venue, throughout day and late evenings, depending on when your return from photographing. Editing is done both individually and in groups, making it a fascinating learning experience for all when witnessing how each photographer's images evolve throughout the course of the workshop, into a completed story. John and Anush review and discuss the photography you create each day, giving you insight and suggestions for your story narrative and the flow, so that the same evening or next day you continue expanding your story. By the end of the workshop, depending on your engagement and story concept, you will have a 20-50 image completed essay.
In previous workshops, many photographers who attended have had their completed stories published in National Geographic, Washington Post, The New York Times, BBC, Vice and more.
During most evenings of the workshop, John and Anush will present stories they have produced from a combined 27 years of photographing for the world's leading publications. One of the greatest experiences is when John brings each photographer into his story planning, research and psyche of creating more than 15 stories for National Geographic.
There will also be engaging discussions and tutorial on leveraging social media through Instagram and career expansion in an ever changing industry.
On the evening of the 22nd of February, each photographer will project their completed work to all attending the workshop, as well as invited guests. Photographers will present and discuss the unique aspects of each story in the exact same manner as a completed story for National Geographic magazine is presented upon completion to editors. This evening event is truly something magical, with each photographer learning something new not only about their own work but also the work of their colleagues.
We encourage all photographers to consider staying longer in country to keep honing their photographic skills. The workshop team can help in offering expertise and insight into places beyond Kandy.
Turkey ~ Anush Babajanyan
Alfi Rizka
2017-11-06T08:56:34+00:00
Early Bird & Returning
15% Discount
Register and deposit before December 7, 2017
Returning Workshop Attendee
Early Bird
10% Discount
Register and deposit before December 7, 2017
New Workshop Attendee
Returning Standard
5% Discount
Register and deposit after December 7, 2017
Returning Workshop Attendee
Standard
.
Register and deposit after December 7, 2017
New Workshop Attendee
Workshop Requirements
This is not a workshop teaching f-stops or how a camera works. This is a workshop about immersive storytelling and the power of photography. Each participant need not be a professional working photographer, however you must be a competent, passionate photographer, with a solid understanding of their camera. You can use any camera you wish, even an iPhone (John and Anush often use their iPhones on assignments). Each photographer needs their own laptop, external hard drives to store their photos. It is highly suggested to use Adobe Lightroom for both editing and toning. Working in Bridge/Photoshop or another program only causes workflow issues, slowing the process during your daily sessions with both Anush and John. We speak from many years of workshop teaching experience how important it is to be using the best, more efficient editing and toning tools. Whether we like it or not, Lightroom won. Use it, it's wonderful. Photographers working also in video, it will be required that you handle all the editing of the final film yourself using editing programs such as Final Cut or Premier. Photographers wanting to record audio should bring their own digital or analogue audio recorders and be familiar with programs like GarageBand, Logic Pro or Pro Tools. Also remember to bring power cables, plug adapters and any other accessories you feel you need to connect to 220v power. Feel free to ask John or Anush for any additional insight.
Deposit
A $1,250 nonrefundable deposit is payable on confirmation of a space in the workshop. It is recommended to make the deposit immediately upon confirming a space in the workshop as these intimate events fill quickly.
Discounts and Fees
To receive the 10% or 15% discount options, the remaining balance must be paid by December 31, 2017. Note: Register early to take advantage of both the special discounts and to make sure there is space. If no balance of payment is received by December 31st, your discount will be canceled and you will need to pay the full workshop fee by January 14, 2018 to keep your space in the workshop.
For those who register after December 7, 2017, not taking advantage of the various discount options, full payment must be received by January 14, 2018.
Cancellation Policy
$1,250 deposit is not refundable for any reason of cancellation — The reason for this is due to the high preparation costs, staffing fees and other significant expense to run international workshops prior to the start of workshop. The remaining balance of the workshop fee (after deposit) is refundable up until January 14, 2018. No refunds will be offered after this date.
Bank Transfer Fees
All wire transfer fees are the responsibility of the registering/participating photographer. Please read Liability Waiver.